HOUSE LIST
Sakaisujihonmachi Urbanlife [Weekly/Monthly]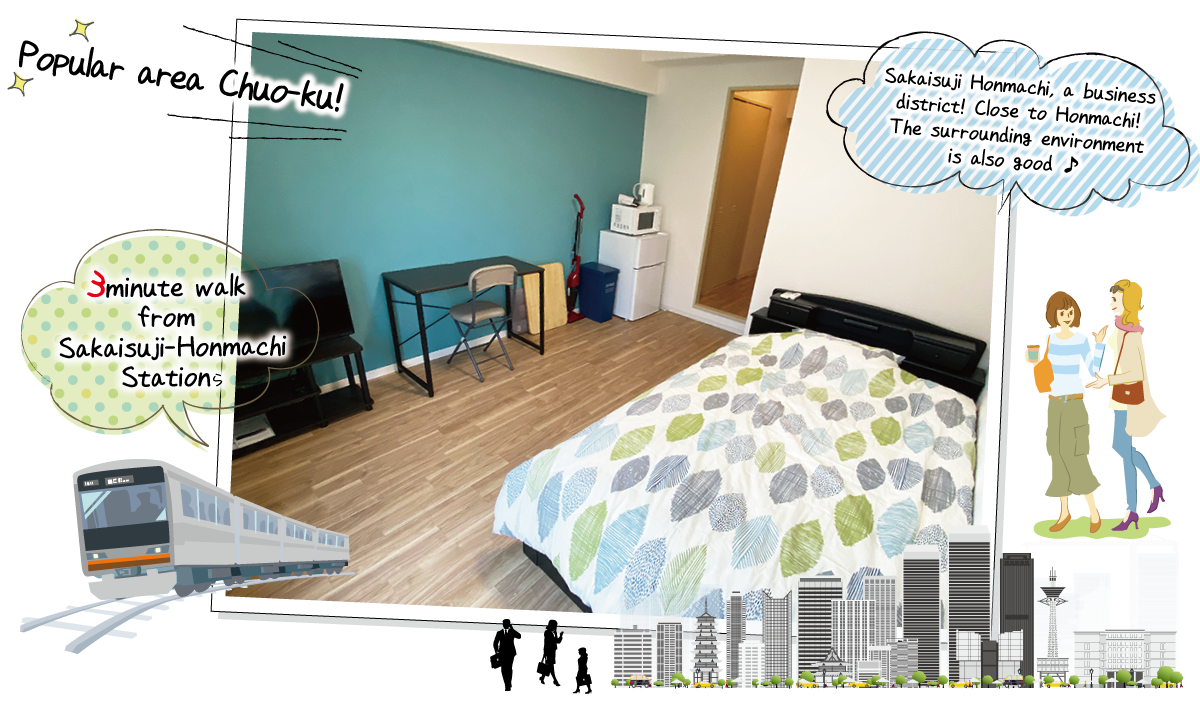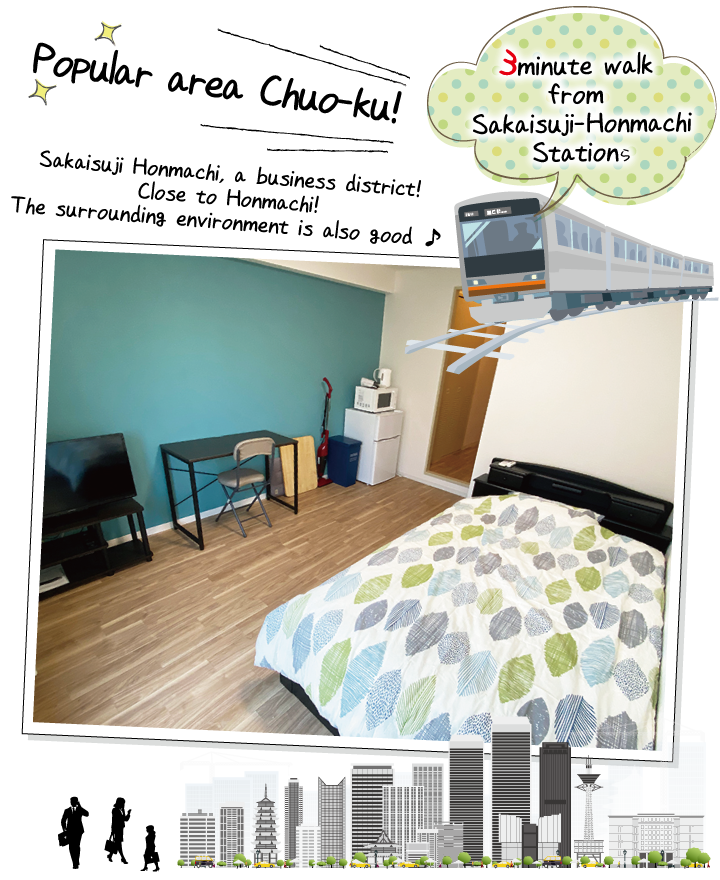 Popular area! A 3-minute walk from Sakaisuji-Honmachi Station!
Within walking distance to Honmachi, Sakaisuji Honmachi is a business district! Traffic is easy near the station!
For those who come to Osaka for business trips, and trips, it is the perfect area for Osaka Chuo Ward!
Internet WiFi is available for free!
Furniture and home appliances are available, so you can live right away!
Room 905
Rent
Utility cost
Administration fee
Cleaning expenses
Super short

2,800yen/day

700yen/day

700yen/day

12,100yen
(At contract)

Short

2,300yen/day
69,000yen/monthly

700yen/day
21,000yen/monthly

700yen/day
21,000yen/monthly

14,300yen
(At contract)

Middle

2,200yen/day
66,000yen/monthly

700yen/day
21,000yen/monthly

700yen/day
21,000yen/monthly

16,500yen
(At contract)

Long

2,100yen/day
63,000yen/monthly

700yen/day
21,000yen/monthly

700yen/day
21,000yen/monthly

18,700yen
(At contract)
Additional 500yen/day for 2people.
Bedding set(quilt, quilt cover, bed pad, bed sheets, pillows, pillow cover 6-piece set)
Size:22.50m2
Deposit 0yen
[Super short]-Less than 1 month
[Short]From 1 month to less than 3 months
[Middle]From 3 months to less than 7 months
[Long]From 7 months to less than 12 months
Room 905
Rent
Utility cost
Administration fee
Cleaning expenses
Super short

2,800yen/day

700yen/day

700yen/day

12,100yen
(At contract)

Short

2,300yen/day
69,000yen/monthly

700yen/day
21,000yen/monthly

700yen/day
21,000yen/monthly

14,300yen
(At contract)

Middle

2,200yen/day
66,000yen/monthly

700yen/day
21,000yen/monthly

700yen/day
21,000yen/monthly

16,500yen
(At contract)

Long

2,100yen/day
63,000yen/monthly

700yen/day
21,000yen/monthly

700yen/day
21,000yen/monthly

18,700yen
(At contract)
Additional 500yen/day for 2people.
Bedding set(quilt, quilt cover, bed pad, bed sheets, pillows, pillow cover 6-piece set)
Size:24.83m2/Roof garden:3.30m2
Deposit 0yen
[Super short]-Less than 1 month
[Short]From 1 month to less than 3 months
[Middle]From 3 months to less than 7 months
[Long]From 7 months to less than 12 months
Shared facilities
EQUIPMENT
| | |
| --- | --- |
| Electric appliances | Air conditioner/TV/recording HDD/Dryer/Refrigerator/Vacuum cleaner/Electric kettle/Microwave oven |
| Furniture products | Curtain/Folding table/TV stand/Bed/Desk/Chair |
| Kitchen | Electric stove/Mug/Plate |
| Bath and Toilet | Toilet paper/Shower/Toilet detergent/Toilet trash/Toilet brush/Bath detergent/Bath cleaning sponge |
| Fixtures | Trash can/Hanger |
CONTRACT INFORMATION
Type of contract
Fixed-term lease
Transaction type
Lender
Guarantor
No need
Documents necessary
at the time of contract
Identity verification certificate/Passport
Payment method
Bank transfer
OUTLINE
| | |
| --- | --- |
| Name | Sakaisujihonmachi Urbanlife |
| Address | 1-5-6 Kitakyuhoji-cho Chuo-ku Osaka 541-0057 Japan |
| Station | Osaka Metro Chuo Line/Osaka Metro Sakaisuji Line 3 minute walk from Sakaisuji-Honmachi Station |
| Floor plan | 1R |
| Construction date | November 1984 |
| People | 2person |
| Bed | Semi-double |
| Parking Lot | No (there are coin parking in the vicinity) |
| Construction | Reinforced concrete structure 10 stories / 9 floors |
| Minimum contract days | 7day |
SURROUNDING FACILITIES
MAP